Pie Shop Calendar
JUNE:  Fresh Strawberry Glacé
JULY:  Fresh Red or Black Raspberry Glacé and  Blueberry Glacé
AUGUST:  Fresh Blueberry Glacé and Peach Glacé
(All dates are approximate, depending on the growing season. Please call to be sure!)
We offer only the freshest and finest quality ingredients in all of our products, with no trans-fats!
The following pies are available year round:
*Our Famous Grape Pie* ~ Crumb Top or Pastry!
Apple, Apple Cranberry Nut, Caramel Apple Nut Crunch, Dutch Apple, Elderberry, Pumpkin, Raspberry, Blueberry, Cherry, Strawberry Rhubarb, Rhubarb, Key Lime
Pecan, Chocolate Walnut, Chocolate Chip Cookie Pie, Chocolate Cream, Coconut Cream, Banana Cream, Lemon Cream
Chicken Pot Pie (no MSG) and Three Cheese Spinach Quiche!

Stop in and see us or give us a call, we are happy to fill your special order!  Unfortunately – we can no longer ship your pies & goodies, so you'll have to come by the shop to pick them up. 
Other Grape Goodies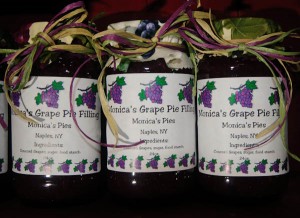 Grape Tart ~ Our lucious grape filling in our own 3″ pastry shell topped with our homemade granola crumbs.
Small Grape Pie ~ A larger version of our "tart".
Grape Bread ~ A yummy quick bread made with grapes, cinnamon and nutmeg.
Grape Pie Filling ~ A rich full grape flavor with just the right sweetness.
Grape Pie Kit ~ Kit includes a 24 oz. jar of "Monica's Pie Filling", a 24 oz. bag of "Katy's Pie Crust Mix" and a pie server in an Amish made minature grape tray, beautifully wrapped for gift giving!