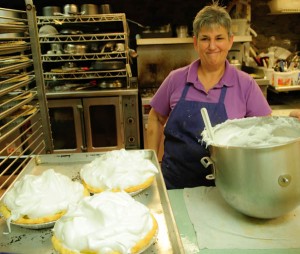 I was born and raised in Naples. My parents, John and Katherine Clark were both teachers at Naples Central School. When I was 3 years old, they bought Hoyt's Boat Livery located in a little settlement called Woodville on the south end of Canandaigua Lake. From then on my summers were spent at the lake and when I was old enough, I worked at the Boat Livery and helped my mother in the small restaurant there. My mother was a wonderful cook and always made me welcome and comfortable in her kitchen. It was there that I learned to cook and bake. Mothers' pies were well known even then: locals, fishermen and boaters came week after week for a piece of her wonderful pies. The ground work was laid for what would come to be Monica's Pies.
I started making grape pies in the fall of 1983, in my mothers home, located in Woodville on busy State Route 21, when Concord grapes were not in demand because of the popularity of white wines. It was a way to use our grape crop and for me to stay at home with my young family.
Monica's Pies is a family owned and operated business. Mother was the "crust expert" (although at 95, she had some well trained elves to help her, who carry on her skills today. Mother passed away November 14, 2014), my husband Greg, is in charge of the grapes in the fall and he folds all the boxes (which is no small feat!), my children Joseph, Charlena and Willie have all gone their separate ways now, but when they are around they pitch in with whatever needs doing and I along with some very talented and dedicated friends, make my signature pies and fillings.
The first couple of years my mother and I made our pies in her kitchen and sold them right outside the door at a roadside stand using " The Honor system". Our motto was "Try before you buy." The pies became very popular and we soon outgrew the small kitchen and moved to the basement, a.k.a.: "The Pie Kitchen." This seemed to suffice until Mother decided it was time to sell her home. I did not want to give up the pie business, so we bought a four story barn on Route 21, not far from mother's place and renovated it into a new pie kitchen, shop and an apartment for her. The move was a good one and not long after we moved into the "Pie Barn," we got a call from The Food Network's Food Finds Show wanting to do a feature on our grape pies. Needless to say, national exposure was good for the pie business!
Naples, located in the Finger Lakes Region of Upstate New York, is considered the grape pie capitol of the world. The grape pie is the unofficial trademark of Naples, NY and using the abundance of local concord grapes to make grape pies has been a tradition since the 1960's.
Today we bake 25 varieties of pies including a very popular Chicken Pot Pie and a Three Cheese Spinach Quiche. The New York Times article (Nov.7,2004), Better Homes and Gardens (June 2005) and Country Discoveries (Sept/Oct 2002) have featured articles about us. All this wonderful exposure keeps us all very busy!
In addition to our pies,we have a variety of jams,jellies,conserves (made here with local fruit), seasonal specialties and gift items in the shop at 7599 State Route 21, just a mile and a half north of the village of Naples.We have a variety of pies available daily or call us to order your favorite at 585-374-2139.